EXPEDITER™ OVERCOMES MIL-STD-129 COMPLIANCE OBSTACLES
MIL-STD-129 is a set of complex guidelines which requires labels on all shipments to the military and GSA. Several types of labels are required with specific shipment and contract information as well as multiple barcodes. All boxes and pallets must be marked (i.e.,labeled).
Non-compliance results in –
Hassles at inspection
Rejection or frustration on the dock
Delayed payments
Dings to your 'Past Performance' record which penalize your next bid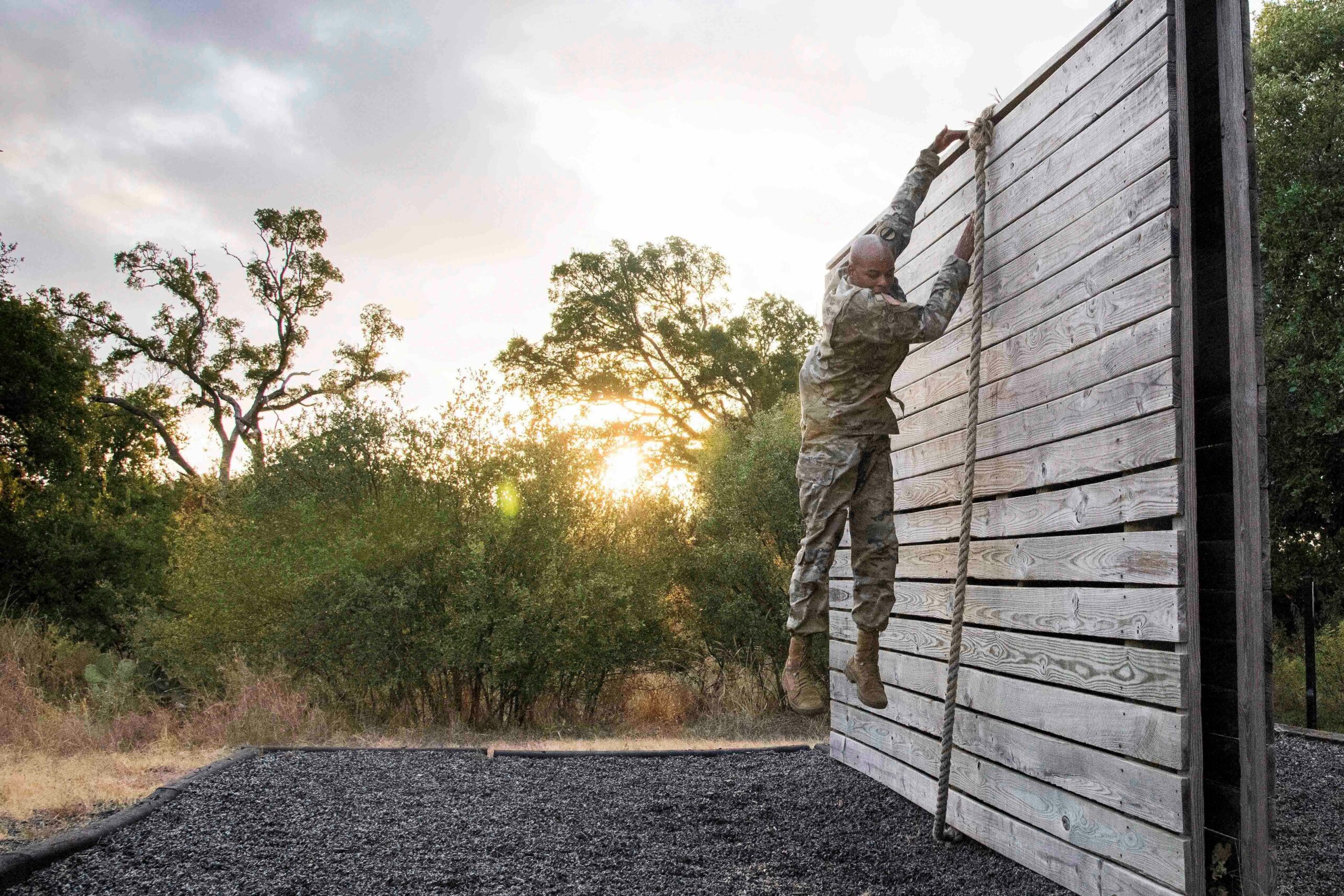 EXPEDITER™
is our 24/7 portal and interactive order form that guides you through selecting the right data for each label.
EXPEDITER™
makes it easier to overcome both obstacles of compliance and purchasing labels.
EXPEDITER™ results in –
DoD acceptance of your shipments
Faster payment by the DoD for your goods
A clean 'Past Performance' record, favorable for future bids
Faster fulfillment of the needs of our warfighters and peacemakers
EXPEDITER™ MIL-STD-129 PRODUCTS & SERVICES
MILITARY SHIPPING LABELS
Paper, Polyester, or uPrint-it™ PDF
RFID available
EXTERIOR CONTAINER LABELS
Paper, Polyester, or uPrint-it™ PDF
RFID available
UNIT CONTAINER LABELS
Paper, Polyester, or uPrint-it™ PDF
Pick a Size 4" x 2" or 2-1/2" x 1-9/16"
INTERMEDIATE CONTAINER LABELS
Paper, Polyester, or uPrint-it™ PDF
Pick a Size 4" x 2" or 2-1/2" x 1-9/16"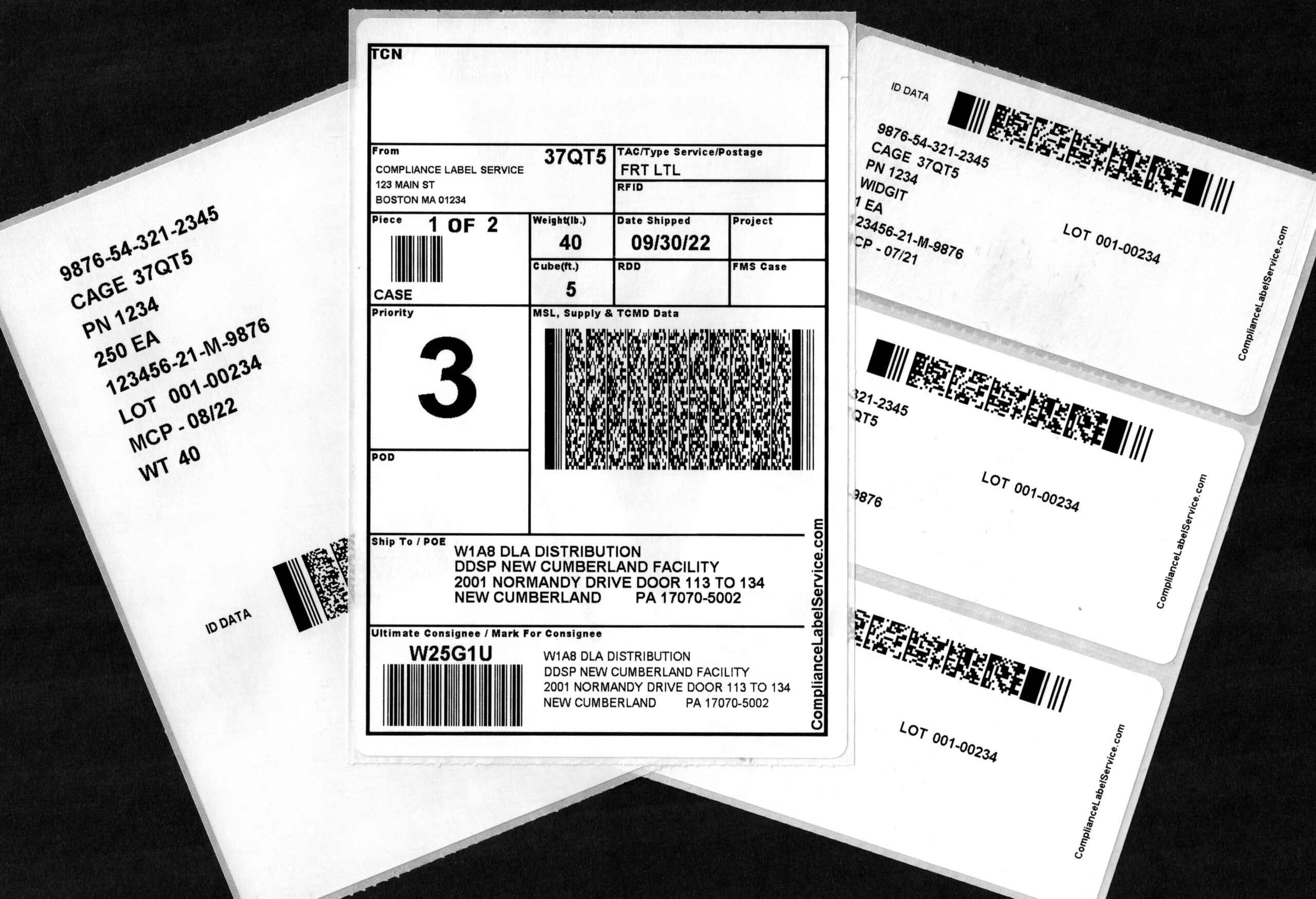 2-PART RFID LABELS
4.0" x 3.0" paper label is diecut into 2 parts:
4.0" x 2.0" upper part has an embedded C1G2 RFID chip plus human readable information, including CAGE code, Company Name, Serial Number, and RFID number.
4.0" x 1.0" lower part sticks to documents so you keep a record of the RFID number
AMMO LABELS
Specialized labels for ammunition and explosive stocks, fully compliant with MIL-STD-129, Section 5.14.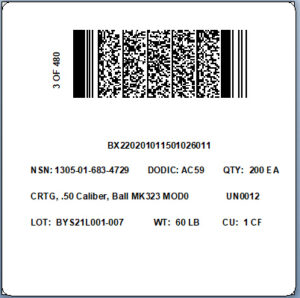 ASN UPLOADS
A single electronic data submission of your Advanced Ship Notice to WAWF.
CONTRACT HELP
We'll review your Contract or Solicitation to identify and explain requirements and input label data into your EXPEDITER™ account.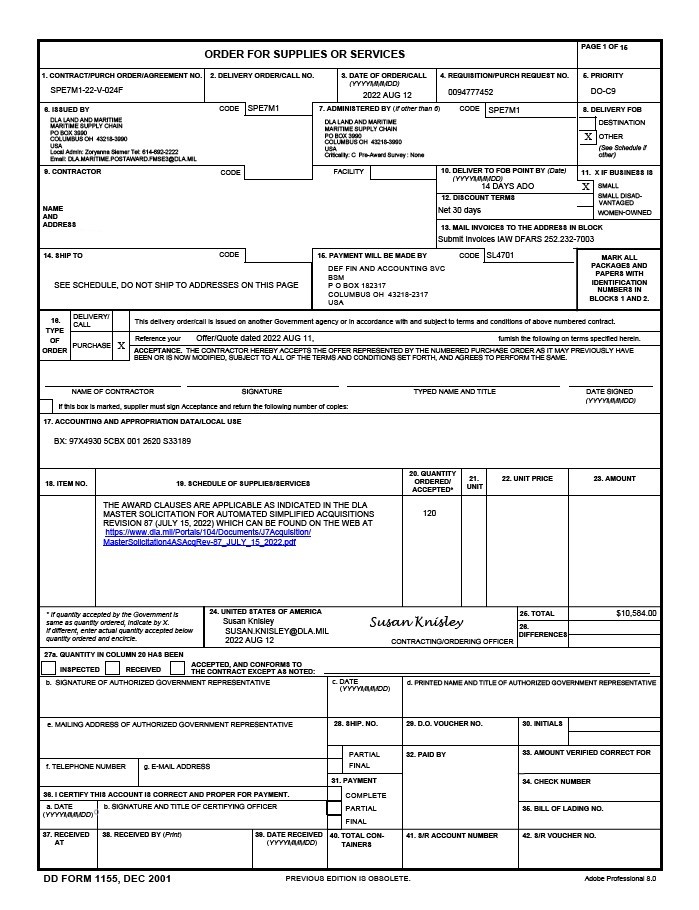 FREE CONTRACT CONSULTATION
Valued at $99
We will read your contract, identify the MIL-STD-130/UID and MIL-STD-129 requirements, enter the contract data into your EXPEDITER™ account, generate a quotation, and call you to review.
Make MIL-STD-129 Easier!
EXPEDITER™ SAVES TIME AND MONEY
A HUGE thank you and our gratitude to Laura Cooperman. She has been phenomenal through this process with military labeling requirements, especially as this was our first government contract. The service is fantastic, and I'm so happy I found it when googling about the MIL-STD-129 labels. She was always a phone call away and had super quick turnaround to get our labels generated and emailed back. We already use a compatible Zebra printer in our shop, so being able to receive an emailed PDF to print 4×6 on a continuous roll with same-day delivery was a lifesaver. We'll use your service again!
Coastal Enterprises Of Jacksonville
When I contacted Compliance Label Service, the people were friendly, knowledgeable, and eager to help in any way. I was walked through the on-line program for entering the contract and shipment information. The tags were in my shop the NEXT DAY! I was sent a link to WAWF to fulfill the advance notification requirement, and everything fell in order very smoothly. I highly recommend Compliance Label Service.
e-Defense recently completed a transaction with DLA that was critical to our performance rating and it was imperative that we get everything right. Mary took all of the hard part right out of our hands and sent the required labels to our supplier—overnight. If we had prepared the labels, we would not have prepared them correctly—as Mary's knowledge and experience dictated.
The next part of the transaction involved the preparation of several forms under a time crunch so that the parts could be shipped. Without Mary's coaching and guidance, the forms would not have been completed, the shipment would have been delayed, and our performance record would have been marred.
Mission Critical Solutions
As Shipping Manager, Compliance Label Service has made my job much easier. Upon receipt of our government contract, Mary walked us through the process of ordering our labels. I generally put an order in weekly and Compliance Label Service sends me the labels the same day. When I have made a mistake in my order, Mary and Laura have been very responsive in helping correct the error. I have very much appreciated all the help and guidance they have given me.
Thank you for taking the extra effort to find out and help us fix an error that we submitted. You did excellent! I think you saved us and actually corrected this for us. This saves us not only the money, but really saves us the time as well! We are on time constraints on some of these shipments and you don't know how super it is to have that extra that you gave to help us correct our error. We would have lost 3-4 days by the time I returned to work and reordered and then received these labels.Thank you for being such a super help for us, we very much appreciate what you do! You guys are the best to work with!